Zelensky visiting D.C. to address Congress, meet Biden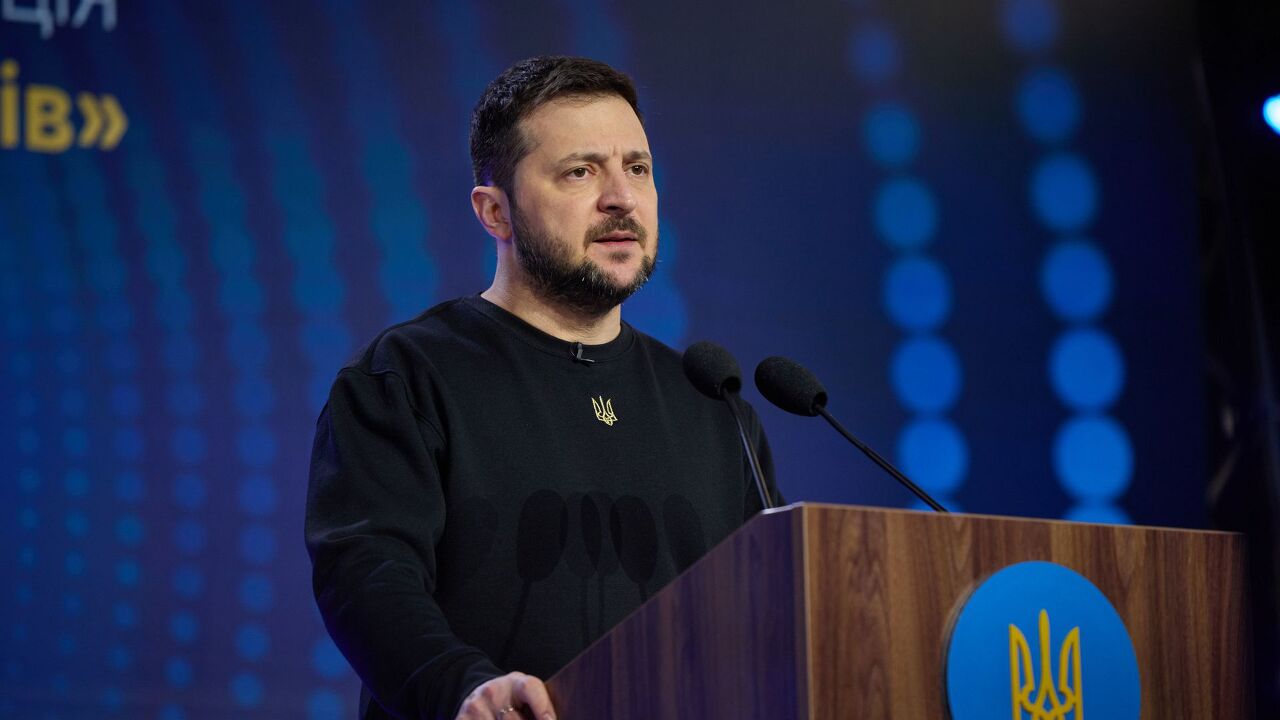 Ukrainian President Volodymyr Zelenskyy speaks at the "Human Rights in Dark Times" International Conference in Kyiv, Ukraine on December 9, 2022. Photo: Anadolu Agency via Getty Images
Ukrainian President Volodymyr Zelensky will visit Washington on Wednesday to meet President Biden, hold a press conference at the White House and address a joint session of Congress, a senior administration official told reporters.
Why it matters: Zelensky had not left Ukraine since Russia launched its brutal invasion on Feb. 24. During the visit, Biden will announce another $2 billion in U.S. military aid including, for the first time, the Patriot missile defense system.
Zelensky's trip to Washington — which will last just "a few short hours," per the U.S. official — comes 300 days into the invasion, as Ukraine is suffering from massive power outages caused by Russian strikes on civilian infrastructure.
Biden and Zelensky will have an "in-depth, strategic discussion" about the war, military aid and tightening sanctions before Zelensky heads to Capitol Hill, the official said.
Congress is poised to pass $45 billion in additional military and economic aid to Ukraine this week as part of its $1.7 trillion omnibus funding bill, bringing total U.S. assistance to over $100 billion.
Between the lines: Some members of the incoming House Republican majority have expressed deep reservations about continuing to send aid to Ukraine.
The official said the White House expected a big show of bipartisan support for Zelensky during the visit, and hoped that would generate additional "momentum" for continued assistance from the U.S. and its allies.
Zelensky may have a chance to convince some skeptics — or at the very least GOP leadership — that U.S. aid is vital and being used responsibly.
Behind the scenes: Biden and Zelensky discussed a potential visit during a call on Dec. 11, and the plans were confirmed on Sunday, the official said. The news didn't start to emerge until Wednesday evening, a sign of the caution surrounding Zelensky's first foreign trip since the war began.
The official declined to discuss the logistics of Zelensky's travel for security reasons but said the visit would take place during Wednesday afternoon and evening.
Zelensky's joint address to Congress is scheduled at 7:30pm EST, according to two sources familiar with the plans, which are still subject to change.
Flashback: When Zelensky addressed a joint session of Congress virtually back in March, he summoned some of the darkest days in U.S. history — including Pearl Harbor and 9/11 — in his plea for greater assistance.
For many Americans, the tragedy in Ukraine has receded into the background as fighting rages on with no end in sight.
For Zelensky, nothing else matters: Just Tuesday, he made a surprise trip to the besieged city of Bakhmut to hand out awards to troops involved in one of the war's fiercest battles.
Zelensky in Washington: Ukraine's leader heads to US for first foreign trip
1 hour ago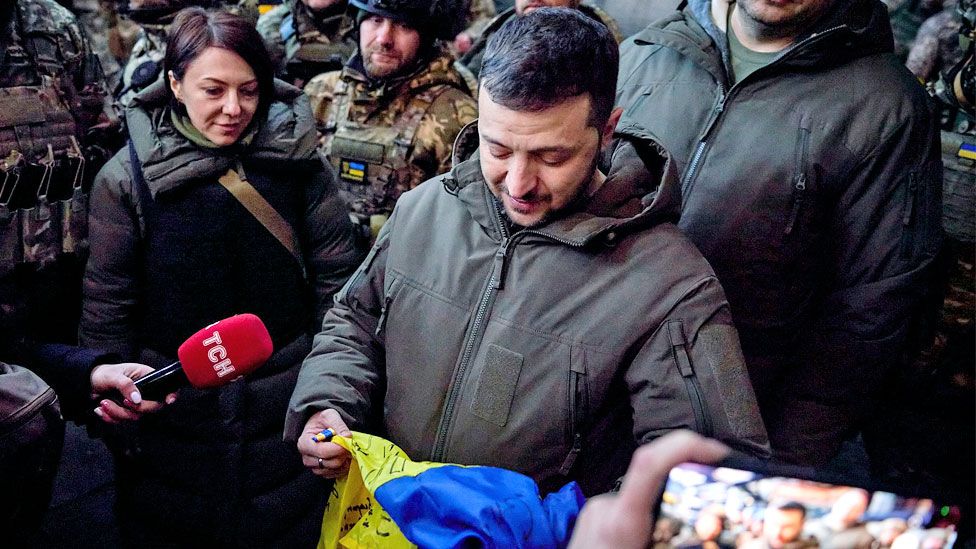 IMAGE SOURCE,

EPA
Image caption,
Volodymyr Zelensky made an unannounced visit to the front-line city of Bakhmut on Tuesday
By Gareth Evans in Washington & George Wright in London
BBC News
Ukraine's President Volodymyr Zelensky says he is on his way to Washington, where he will meet US President Joe Biden on Wednesday.
It is his first foreign trip since Russia invaded in February.
The White House has also confirmed the trip and said it will supply Ukraine with a Patriot missile battery, significantly increasing the country's air defence capability.
Mr Zelensky will also address Congress and hold a number of meetings.
"On my way to the US to strengthen resilience and defense capabilities of Ukraine," he wrote on Twitter.
Mr Zelensky regularly hosts foreign leaders in the capital, Kyiv, and has visited troops around Ukraine.
The Ukrainian president has also spoken frequently to world leaders over the telephone and by video call - often from his office in Kyiv.
But the surprise visit to a foreign country marks a first since the war began and also signals the importance of Ukraine's relationship with the US, which has played a leading role in providing military support.
In its briefing ahead of Mr Zelensky's visit, the White House confirmed a new package of nearly $2bn (£1.6bn) of security assistance for Ukraine.
That includes a new Patriot missile system, which will help Ukraine to protect its infrastructure against Russian attacks. Ukrainian officials have long been appealing for more powerful air defence systems from the West.
Russia has been targeting Ukraine's energy sector, plunging millions into darkness in winter with temperatures several degrees below freezing.
The White House said it will train Ukrainian troops on how to use the Patriot system in a "third country" and that this "will take some time".
Work is also currently under way in the US to push through a bill that would give Ukraine more than $40bn (£33bn) in extra funding heading into 2023.
President Zelensky says the monthly cost of defence for Ukraine was about $5bn (£4.1bn).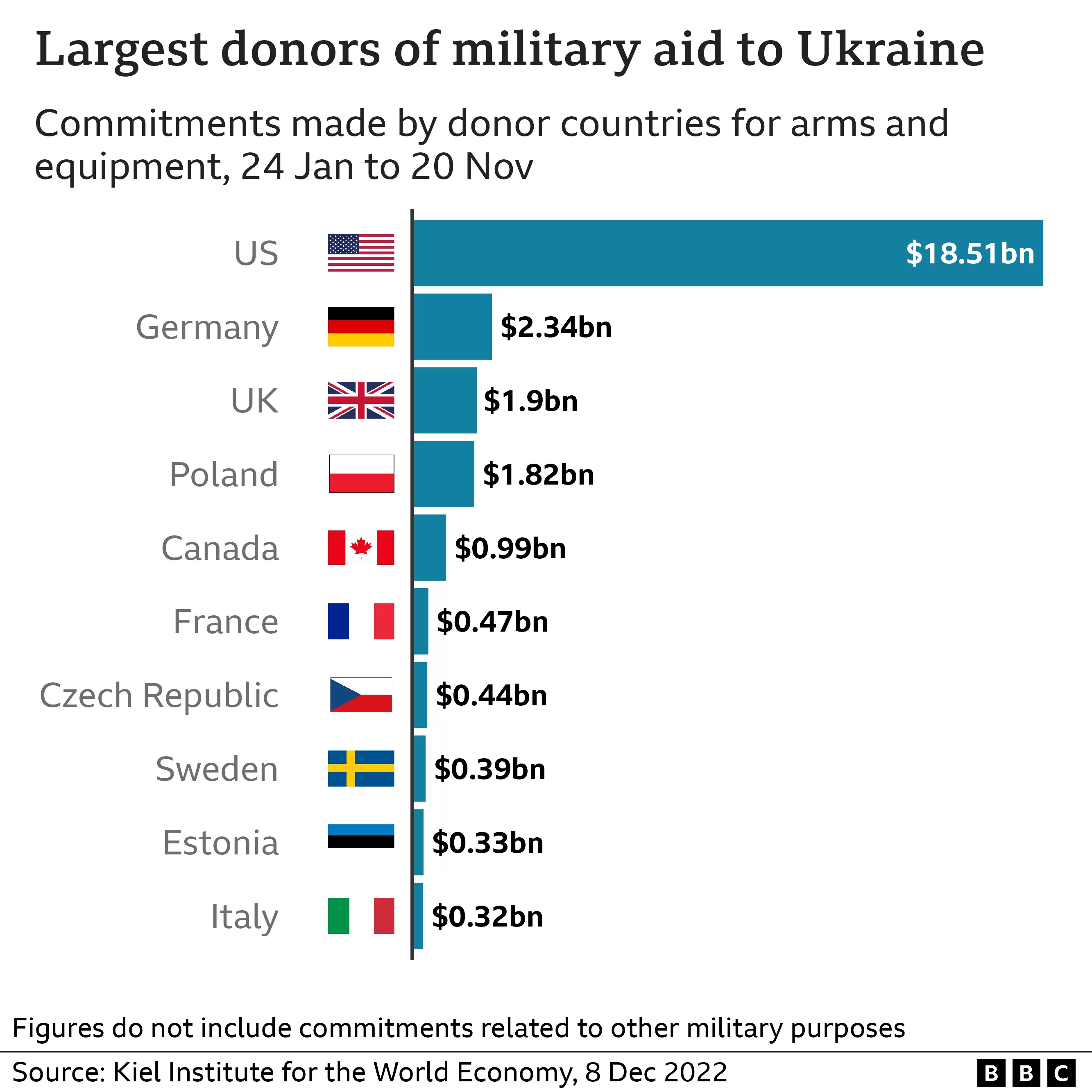 He met troops and handed out awards to soldiers, the presidency said.
The visit was a significant show of defiance - and a demonstration of support for Ukrainian forces engaged in some of the fiercest battles in recent weeks.
Soldiers gave Mr Zelensky a Ukrainian flag with their names signed on it and asked him to give it to President Biden and the US Congress, in a moment that was captured on camera.
On the same day, Russian President Vladimir Putin awarded medals inside the Kremlin to figures involved in the Russian invasion.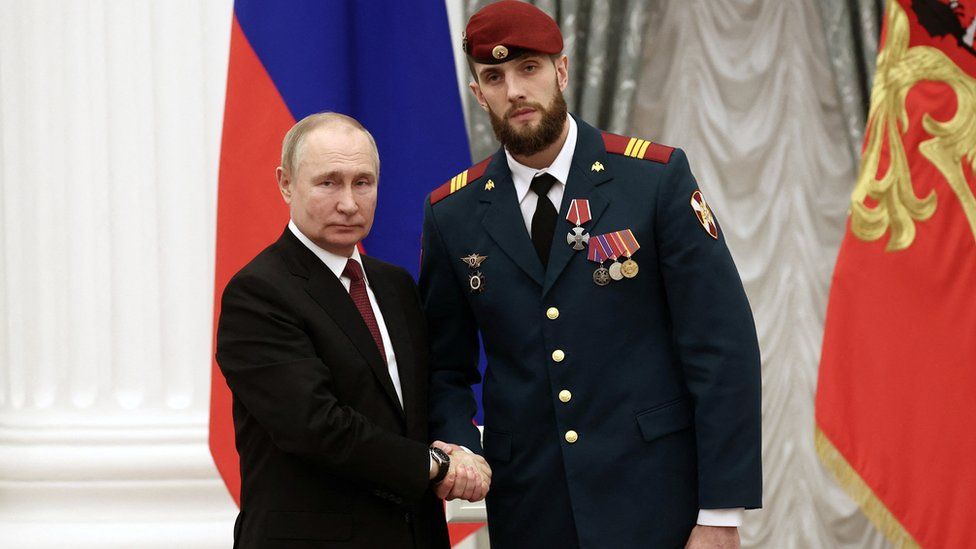 IMAGE SOURCE,REUTERSImage caption,
Vladimir Putin awarded National Guard Sergeant Lev Makeyev the Order of Courage