The crane lifted the car from the muddy depths. As it got to eye level we could see clearly the face of our wee sister
Phil Coulter's harrowing recollection of two family tragedies
The Irish Mail on Sunday
13 Oct 2019
By Dan Grennan news@mailonsunday.ie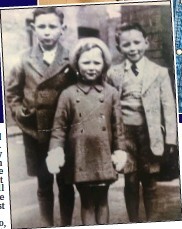 LEGENDARY songwriter Phil Coulter has written of his intense heartbreak over how his brother and sister both lost their lives in Lough Swilly, Co. Donegal.
Writing in his autobiography, Bruised, Never Broken, Coulter speaks about the moment he saw his sister's body being pulled from the water after it had been driven off a pier and into the lough by an addict she had been counselling.
The Derry man said of the tragic day in the mid-1980s: 'What happened next was like an out-of-body experience for me. I felt I was up above, looking down at this drama being acted out in the fast-descending darkness, like a scene from a black-and-white movie. Joe and I stood there in the rain and watched as the crane lifted the car from the muddy depths.
'As it got to eye level, inside we could quite clearly see the face of our wee sister. Oh, Christ. That sight will be etched into my memory until the day I die.'
The car was pulled from the water by the Garda Sub Aqua Unit – which had been called up by the Garda commissioner of the day, Eamonn Doherty – a native of Buncrana and a friend of Coulter's.
'In the days that followed, the pieces began to fall into place. In the car with her was one of her clients. It was he who had rung her and claimed an emergency. It transpired that he was on a suicide mission, and not for the first time.
'He had decided to take my sister with him as well. I have since been told that it is not uncommon for addicts to fixate on their counsellor. All I know is that Cyd's desire to help others cost her her life.
'Her funeral in the old family church, St Columba's Church, Long Tower, was one of the saddest days of my life. But something positive came out of the occasion. As one important person left my life that day, someone else entered it. Someone who would play a big part in my career in years to come. It was as if Cyd had left me a parting gift.'
Ten months before Cyd passed away, Phil's brother Brian had also lost his life in Lough Swilly. As Coulter writes: 'Brian's body had been found, washed up on the shore near the mouth of the Swilly. In the midst of that nightmare, the only small consultation was that at least we had his body. He wasn't lost at sea.
'Over the next week or so, through the recovery, the postmortem and the funeral, the devastation and deep sense of sadness gave way to a growing sense of frustration. And anger. If people on the shore could see that he was in deep trouble, how come he couldn't be saved?
'My father was inconsolable. A broken man. Brian was the only one of his three sons who hadn't left Derry. He'd stayed close and was always there when needed.
'It was the one time I was glad that my mother had passed away, also in December, in 1967, and was not around to see this. The loss of her son would certainly have killed her.'
The later tragic passing of his sister was spared to his father, who had died the month before.
The Town I Loved So Well writer said: 'My father, who never really recovered from Brian's death, had died just the previous month, in August 1985. Maybe it was as well because Cyd's death and the manner of her dying would certainly have put him in the grave.'
Both tragedies were immortalised in two laments – Shores Of The Swilly and Star Of The Sea – which he wrote in memory of his siblings. Writing of his feelings now, Mr Coulter, who wrote rugby anthem, Ireland's Call said: 'My life seemed to be fated to be entwined with that stretch of water. Despite all the sadness that it has brought to our family, I am still drawn to it.
'If I am anywhere near that corner of Donegal, I have to visit and stand looking over it. For me, it's like going back to the well.
'When I stand on the beach in Lisfannon and gaze across the water to where it laps the shoreline of Rathmullen, a kaleidoscope of emotions floods through me.'
Bruised, Never Broken, by Phil Coulter is published by Gill and is in shops now
'He was on a suicide mission'
Phil Coulter (필 콜터) - The Star Of The Sea (Roma Dawney -로마 다우니)
https://www.youtube.com/watch?v=BHsIMSTO0Is
The Shores of The Swilly by Sinead O'Connor written by Phil Coulter
https://www.youtube.com/watch?v=SDvkbQNtP8I