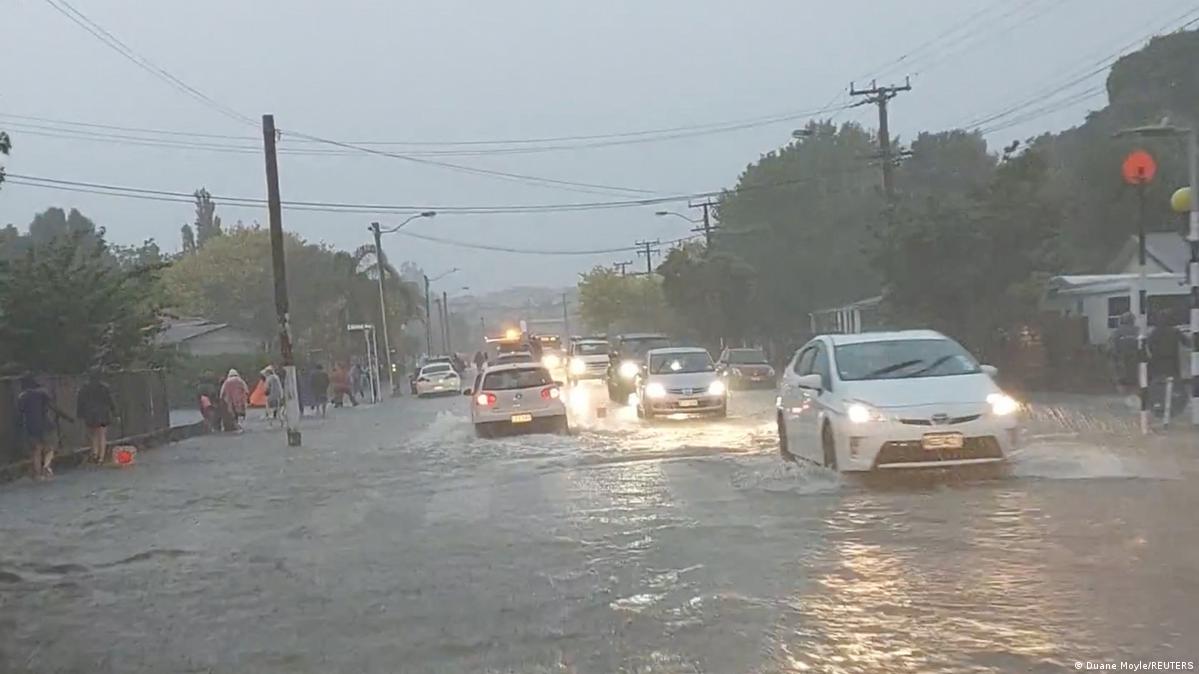 New Zealand: Auckland floods turn roads to rivers
Flooding has caused major disruption in New Zealand's largest city, with officials closing the airport and declaring a state of emergency. The British musician Elton John was forced to cancel a farewell concert.
New Zealand authorities on Friday declared a state of emergency in the country's biggest city, Auckland, after torrential rain caused widespread flooding.
The flash floods have caused hazardous driving conditions and forced the city's airport to close, with all flights canceled at least till noon on Saturday, according to authorities.
A concert forming part of singer Elton John's farewell tour of the country also had to be canceled.
What is the situation in Auckland?
MetService, the national weather authority, said up to 250 millimeters (10 inches) of rain had fallen throughout the day on Friday, with more to be expected overnight to Saturday.
Roads have been flooded, causing major disruptions to traffic, and several terminals at the city's airport, which is the largest in New Zealand, were filled ankle-deep with water.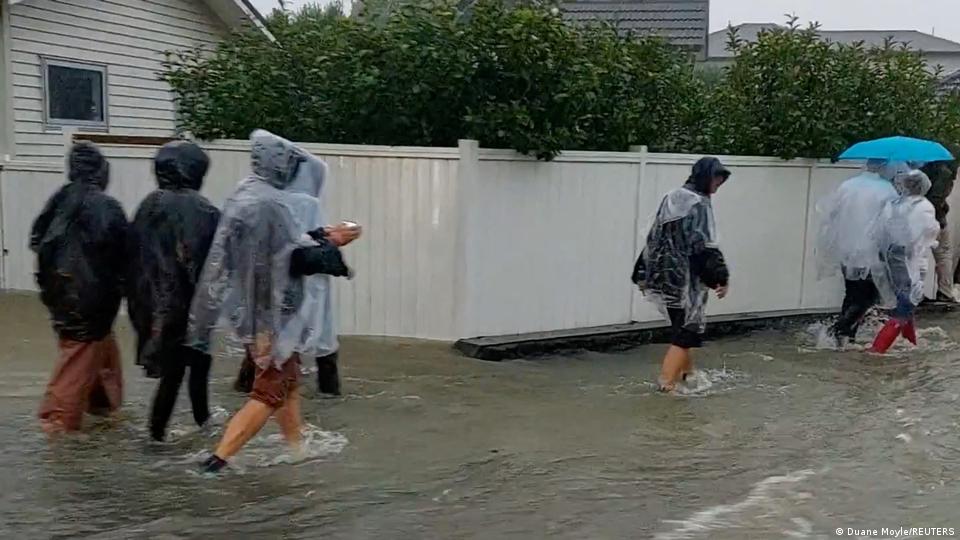 he water flooded a number of homes
On Friday evening, transport authorities closed parts of State Highway 1, the main highway that runs through the city.
Videos were also posted online showing water flooding into residential homes.
Emergency services have faced huge numbers of calls for help, with people urged to contact emergency services only if they were in "life-threatening" danger.
The mayor of Auckland, Wayne Brown, told a news conference late on Saturday that a body had been found in a northern suburb, although it was not clear whether the death was a result of the flooding.
The country's new prime minister, Chris Hipkins, who was sworn in on Wednesday after Jacinda Ardern's shock resignation, wrote on Twitter that government agencies were "working flat out" to help.
I'm pleased an emergency declaration has been made due to flooding in Auckland tonight. All relevant govt agencies are working flat out to help in an extraordinary set of circumstances. The emergency response is underway and the Government is ready to assist as needed.
Elton John concert canceled
Amid the chaos, a concert to be given by British star Elton John at the city's Mount Smart Stadium was called off shortly before it was to begin.
Organizers said the cancellation was caused by the unsafe weather conditions.
About 40,000 people were expected to attend the evening concert, with thousands already at the venue when the event was canceled.
The concert had been billed as part of a final farewell tour for John, 75, one of the world's best-known musicians.
tj/dj (AFP, AP)
Auckland floods: New Zealand city declares emergency after torrential rain
By Kathryn Armstrong
BBC News
New Zealand's largest city has declared a state of emergency after torrential rain prompted widespread flooding and evacuations.
Friday's downpour in Auckland shifted houses, stalled traffic and cut power to homes and businesses.
The city is said to have received 75% of its usual summer rainfall in just 15 hours.
"The impacts of the last 24 hours will be felt by many in Auckland for a long time," said the national forecaster.
Auckland's mayor, Wayne Brown, has confirmed media reports that a body had been found in Wairau Valley on Auckland's North Shore. Mr Brown has said he is "deeply saddened" by the news. Police have not confirmed whether the death is linked to the flooding.
He has also said infrastructure and emergency services had been "overwhelmed" by the impacts of the storm. In a statement, Fire and Emergency New Zealand said it had been dealing with roughly 1,500 calls for assistance.
The New Zealand Defence Force is helping with evacuations and emergency shelters have been set up across the city.
Meanwhile, the mayor has defended himself against criticism that he was too slow to declare a state of emergency, saying he followed advice from experts.
We've just had to evacuate our home as the water was already rising rapidly and coming in aggressively. We found ourselves with someone's dog for a while before leaving. Thinking of all the locals who have had been affected by today's floods. Pls follow civil defence advice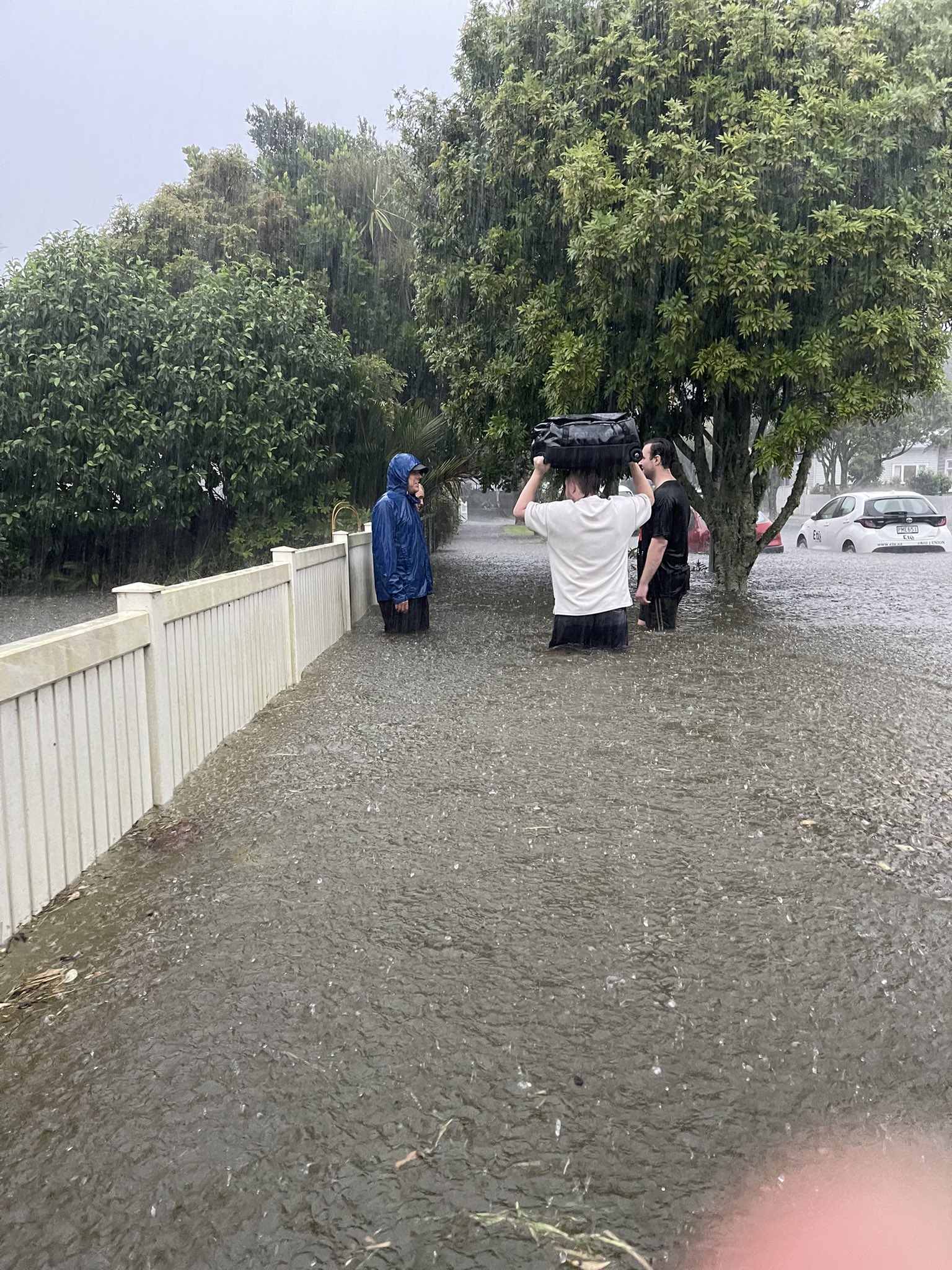 Ricardo Menendez March, a Green MP and Auckland resident, told the BBC that the area he lived in was quickly flooded and he had to evacuate, but was given shelter by a friend nearby.
"There were people who were unfortunately not as lucky - low-income communities, disabled people, migrant communities as well," he said.
Major roads were also blocked off by the floods, causing long traffic queues on highways, with several traffic accidents reported.
The flooding also disrupted travel to and from Auckland Airport. Domestic and international flights have now been grounded until at least midday on Saturday.
An Elton John concert, expected to be attended by 40,000 fans, was cancelled minutes before it was due to start. Other public events planned for the weekend have been cancelled.
Footage online showed people trapped in waist-deep floodwater and rescuers carrying out evacuations on kayaks.
Other pictures showed grocery items floating down the aisles of several flooded supermarkets.
Follow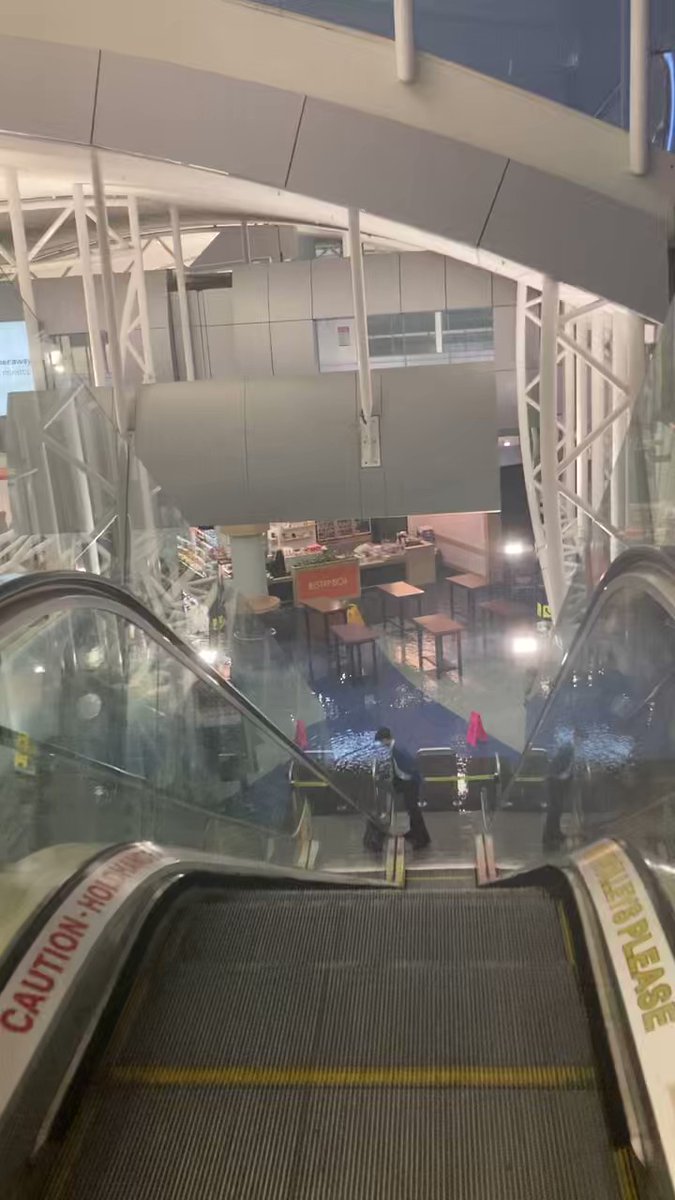 New Zealand's new Prime Minister, Chris Hipkins, has tweeted to say the "Beehive Bunker" - a reference to the country's parliament building in the capital, Wellington - is helping with the co-ordination of the emergency response. Mr Hipkins is expected to travel to Auckland on Saturday.
The National Institute of Water and Atmospheric Research (NIWA), the country's climate science body, has said Friday was the wettest day on record for a number of locations in Auckland. Heavy rains have been forecast in various parts of the city for at least the next five days.
"It goes without saying that we need to have a conversation about how climate change is making these events more frequent and how cities like Auckland are massively underprepared," said Mr March.
While climate scientists have cautioned against attributing individual weather events to climate change, research by NIWA has found the warming planet is leading to more extreme weather events in New Zealand.