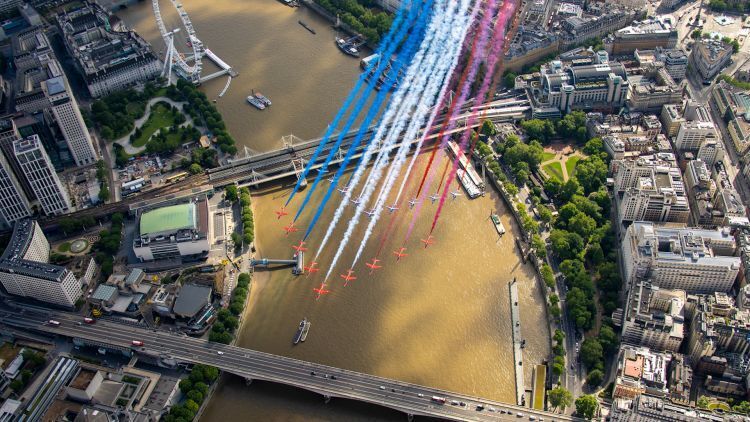 Her Majesty The Queen's Platinum Jubilee Flypast
https://www.youtube.com/watch?v=did4bKzEp2s
55.2K subscribers
Aircraft from the Royal Navy, British Army and Royal Air Force celebrated Her Majesty The Queen's #PlatinumJubilee with a flypast on 2nd June 2022.

More than 70 aircraft passed over Buckingham Palace, The Royal Family and eager onlookers.

Find out more about The Queen's relationship with the RAF over her 70 years reign: https://bit.ly/3lVjFBB
Royal Family Watch Jubilee Flypast from Buckingham Palace
https://www.youtube.com/watch?v=NFFFtt_klqo
1.72M subscribers
The Royal Family have watched the Platinum Jubilee flypast from Buckingham Palace.
Prince Louis was spotted waving and wincing as 70 aircraft flew over The Mall.
Queen and royals watch flypast on Buckingham Palace balcony
https://www.youtube.com/watch?v=lorJymWv3oY
Platinum Jubilee: Watch the flypast as 70 planes soar over the palace
More than 70 aircraft took part in a six-minute flypast on the first day of the Queen's Platinum Jubilee celebrations.
Thursday 2 June 2022 15:33, UK
https://news.sky.com/video/platinum-jubilee-70-aircraft-take-part-in-flypast-12626158
Dozens of aircraft from the Royal Navy, the Army and Royal Air Force soared above Buckingham Palace after Trooping the colour.